TGIF!
Good morning everyone! I've got a lot to be thankful for today.
Thank goodness for Granola & Bananas for breakfast.
I combined another one of my Bear Naked Fruit & Nut Granola pouches with a banana and a splash of milk for breakfast. Nothing better, really!
Eating this reminds me of my Grandpa, who ate a bowl of milk and bananas every single morning :)
Thank goodness for a simple lunch.
I've been eating so much meat this week (a la Chef Ben) that I needed something simple, and pure for lunch today.
Enter CranberryOrange PURE Bar – which is organic, raw, healthy and delightful. Really it is – it says so on the package! ;)
A fat-free Blueberry Cheesecake Yogurt with no added sugar.
And a fresh, crunchy, sweet Honeycrisp Apple.
Thank goodness for Fun Fact Friday!
Today's fun fact: I worked as a Chocolatier when I lived in Minneapolis!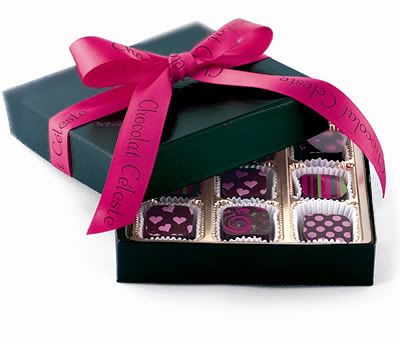 I've mentioned that before I got into cooking, I was really into baking & sweets – which, I'm not sure why, all got started when I moved to Minneapolis after college. Before I knew it, I started looking for ways to make money off of my new found interests. Enter a part time gig working on the weekends at Chocolat Celeste in St. Paul, MN!
Chocolat Celeste creates delicacies for the chocolate connoisseur – ie, they create unique and mouthwatering chocolate truffles, bonbons and treats for the chocolate lover inside us all. It's a small shop owned by a woman who waved goodbye to years and years of working in the corporate world to follow her dreams and open up her own chocolate shop. No big deal… ;)
I was hired for the holidays to package up big corporate orders in boxes and ribbons, but before I knew it I was creating luscious, silky, chocolate-ganache truffles that we would flavor with anything from pumpkin spice to champagne. After scooping the ganache into golf-ball sized truffles, we'd enrobe them in streams of pure chocolate of all kinds. I came home every night smelling of chocolate – it was the greatest job ever.
If you ever happen to stop by Chocolat Celeste, let me recommend the Golden Cinnamon, Chai and Celestial Sweetie truffles. Ahhh, I can taste them now!
On that note, have a very sweet Friday :)
~~~~~
What's the best job you ever had?