It's another beautiful day in the neighborhood!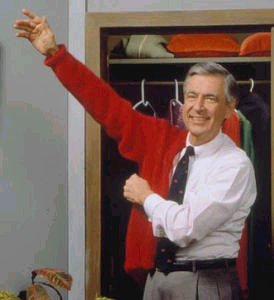 Now where did I put my sweater…
:mrgreen:
It was so glorious outside this evening, that the only choice I had was to fire up the grill and make Apricot Glazed Turkey Burgers Stuffed with Goat Cheese for dinner!
YES!!
I started by seasoning up 1lb of extra lean ground turkey breast with garlic powder, onion powder, salt & pepper. I like to cover my hand in a plastic bag when mooshing up raw meat to distribute seasoning. It makes me feel better!
I divided the seasoned turkey into 4 portions,
and did the same with some fresh, chevre.
I LOVE THIS STUFF!!
I divided each turkey portion in half, thumbed a little indentation in one half, placed a goat cheese ball in the indentation,
and covered with the other half.
Make sure to seal the edges pretty good, otherwise you'll lose all your precious goat's cheese during the cooking process!
While my grill heated up I made the glaze. OMG THE GLAZE!! Apricot preserves, soy sauce (Costco, whoop!) and a wee bit of ground ginger. Oh and a few red pepper flakes that I threw in for good measure at the end.
I divided the glaze in half – one part for glazing the meat, one part for drizzling over the finished burgers!
I brushed one side of the burgers with the glaze and grilled, glazed side down, for ~4 minutes. When it was time to flip, I glazed the top half and gave them the old switcheroo.
YEAH!
While the other side grilled, I enjoyed the scenery. Beautiful, and HOT!
On the other side of the grill, I had some zucchini kabobs workin'. All I did was thread two zucchinis, sliced in ~1-1.5 inch sections, onto some bamboo skewers that I soaked in water for 5 minutes so they wouldn't burn on the grill.
I sprayed each side of the kabobs with non-stick spray and sprinkled them with my favorite grill seasoning – Weber Veggie Grill Seasoning.
They took just a little bit longer to cook than the burgers, which was actually fine because they needed some time to rest and get their juices redistributed.
When all is said and done!
These burgers!!! The simply seasoned turkey meat really let the glaze shine through. It was sweet, salty and a bit spicy from the red pepper flakes. Basically, I wish I had a gallon of it to pour on top!!
And let's talk about this goat cheese!
It became warm and oozy on the grill – a perfect tangy contrast to the sweet glaze. Just fantastic!
The zucchini, while not quite as exciting as the burgers, was good too. I really do love that seasoning blend. It's got a bit of a kick to it, which adds a ton to the smoky flavor of veggies off the grill. YUM!
Loving these SOOOO, so much. I need to stuff burgers more often… muwahahaha!
In other news, I didn't really have the energy to go for a run after work, but I'm about to hop on my bike and knock out a nice tour de Iowa. ;)
Have a good night!
~~~~~
What's your favorite thing off the grill?
I've got to say – I do love me a good brat, although grilled Iowa sweet corn DOES hold a special place in my heart!