After a brief Thanksgiving-induced hiatus, Friday Favorites are officially back!
It's been a busy week 'round these parts, what with kicking off and wrapping up the first week of the 20 Day Holiday Workout Challenge!
TGIF, right?!
Without further ado, here are my favorite finds from around the web this week!
Favorite new year's idea: Easy closet clean out. Flip all your hangers around on new year's day. After one year, or a season, donate any clothes that you haven't worn, aka the hangers are still flipped!
Favorite Christmas cookie: Peanut Butter Cup Cookies. My parents used to have a Christmas party every year which my Mom would make dozens and dozens and dozens of cookies for. These were my favorite!
Favorite foodie gift idea: Stuffed baking mitt. Perfect for a newly married couple, or someone just out of college and starting to cook for themselves.
Favorite Giggle: The Truth About Book Clubs. I personally don't belong to a book club, but every single one I know of pretty much follows this format. HIGHlarious!
Favorite winter must-have: Sorel Joan of Arctic Boots. Uggggh, luscious foot hugs.
Favorite Holiday pup. Poor, hilarious pooch!
Favorite DIY craft: Scented candle upcycles. Melt half burned candles and combine them in one candle. Genius – I have like a zill of these laying around!
Favorite casserole: Chicken Broccoli Supreme Casserole. Hearty winter casserole without cream of something soup.
Favorite photo: Chocolate Wasted Cake. I mean!!!
Favorite Christmas card. Rustic, cute and clever.
Favorite find: Copykat Godfather's Dessert Pizza. Do you KNOW how many slices of this pizza I ate growing up?
Favorite personalized gift: Thumbprint Heart Pendant. Perfect for husband/wife, mom/dad/children, grandparents/grandchildren.
Favorite fitspirational quote. It's so true!
Favorite MUST MAKE recipe: Hot Chocolate Bombs. Make these truffle-like balls, wrap and freeze. Drop in warm milk for instant, homemade hot chocolate!!
Favorite flashback: Santa Mugs. We had these exact mugs growing up, and I clearly remember having Swiss Miss hot chocolate with mini marshmallows in them after cold winter days spent sledding and building snow men. Awww!
Favorite eco-chic fashion statement: Hand Block Printed Bamboo Scarf. Each scarf is made of bamboo and stamped with stamps from India. Cool, and cute!
Favorite fancy nibble: Shrimp Pesto Pizza. Yes, yes and yes. To all those things.
Favorite coffee flavor: Wild Blueberry from Green Mountain Coffee. This tastes IDENTICAL to a blueberry muffin. Unreal! PS get 15% your order and free shipping until 12/15 with code AM0015-3592 at GreenMountainCoffee.com!
Favorite holiday sight: Rockefeller Christmas Tree. Seeing this bad boy is on my bucket list!
Favorite funny: Inappropriate Elf on the Shelf ideas. I actually think the EOTS concept is genius, but these ideas are absolutely hysterical.
Favorite true words. Been there, done that!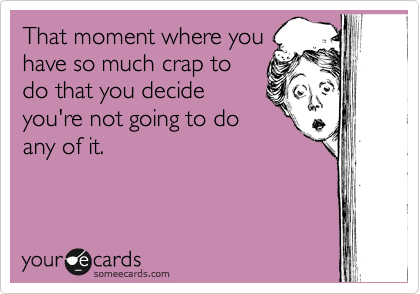 Favorite holiday indulgence: Eggnog syrup. I want to try this ONCE!!!!
Check out these previous Friday Favorites posts.
Have a wonderful weekend everyone! :D
~~~~~
What was the best part of your week this week?